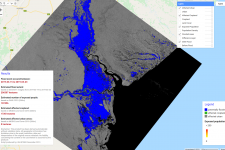 This Recommended Practice aims to be a simple and quick tool for users of any experience level to create information about flooding. The code is to be input into Google Earth Engine and run according to the area and dates specified by the user. After the process has run, the code will create a delineation of flood extent using SAR data and change detection methodology. The code will also produce information about cropland, urban areas and population density exposed. The code can be run with little-to-no user knowledge of GIS or coding; the code provided has a description of each tool it uses to create the end information, as well as an overview of the strengths and limitations of the product. Additionally, this Recommended Practice can also serve as a base code for more experienced users to alter and create a better tool for their individual disaster needs.
Beira, Province of Sofala, Mozambique
On 14 March 2019 Cyclone Idai made landfall in Mozambique. The storm caused massive flooding across wide stretches of the country. By 28 March 468 people had died from the disaster and an additional 136,000 were displaced. Worries grew as, in addition to major population centers, the central states – which produce roughly half of the country's food – were heavily affected. Both lives and crops were lost, and disaster managers were facing tough problems on how best to confront rescue and response across the region. In this context, quick and accessible information is critical for the disaster community to build a comprehensive plan on how to respond rapidly so that more communities, crops and lives aren't lost as the country works to rebuild. This Recommended Practice is built to be used as a tool to provide that information.
This tool can be used to provide a comprehensive overview of a flood, across any size area of interest – from small communities to states. In addition to the outline of flood areas, this code produces information about farmland affected to better plan for food security concerns after a disaster. Additionally, data about major population centres are highlighted by this tool, providing information to be used by rescue and response operations. However, as this methodology is meant for broad information provision in a global context, and as there are inherent uncertainties in this methodology which are discussed further in this Recommended Practice, it is important that this tool not be used as the only source of information for rescue response planning.
This tool is built to provide instant and near real-time information about flood extent, as well as cropland and urban areas affected. It can be used in any areas affected by floods globally. It works independently of weather and can be used with little-to-no GIS or coding experience.