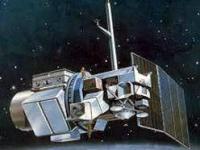 Landsat 5 was launched from Vandenberg Air Force Base in California on March 1, 1984, and like Landsat 4, carried the Multispectral Scanner (MSS) and the Thematic Mapper (TM) instruments. Landsat 5 delivered Earth imaging data nearly 29 years - and set a Guinness World Record For 'Longest Operating Earth Observation Satellite', before being decommissioned on June 5, 2013.
The Landsat 5 satellite orbited the the Earth in a sun-synchronous, near-polar orbit, at an altitude of 705 km (438 mi), inclined at 98.2 degrees, and circled the Earth every 99 minutes. The satellite had a 16-day repeat cycle with an equatorial crossing time: 9:45 a.m. +/- 15 minutes. Landsat 5 data were acquired on the Worldwide Reference System-2 (WRS-2) path/row system, with swath overlap (or sidelap) varying from 7 percent at the Equator to a maximum of approximately 85 percent at extreme latitudes.
Landsat 5 long outlived its original three-year design life. Developed by NASA and launched in 1984, Landsat 5 has orbited the planet over 150,000 times while transmitting over 2.5 million images of land surface conditions around the world.
Instruments:
Multispectral Scanner (MSS)
Thematic Mapper (TM)