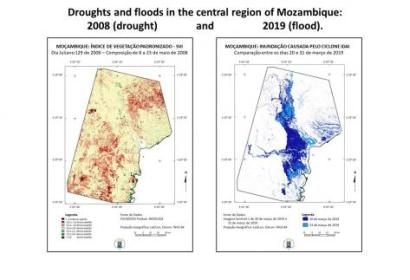 UN-SPIDER, Federal University of Santa Maria (UFSM) of Brazil
The Federal University of Santa Maria of Brazil (UFSM), in its role as a UN-SPIDER Regional Support Office (RSO), and UN-SPIDER joined forces to conduct a virtual seminar on the use of the UN-SPIDER Recommended Practices to process satellite imagery to map the geographic extent of floods, and to elaborate a series of maps that allow government agencies, as well as regional and international organizations, to assess the severity of droughts in particular years in comparison to droughts in other years. The webinar, conducted on 4 August 2020, brought together more than 30 officers of government agencies of Mozambique, as well as researchers, faculty members and students from various universities.
During the event, researchers from UFSM made participants aware of efforts by the space community to develop drought indices extracted from satellite imagery that assess the impacts of drought on vegetation. They also gave participants a brief introduction to the use of radar imagery, which can be used to map the extent of floods even under cloudy conditions, while presenting the results extracted from Sentinel 1 radar images regarding the very large floods triggered by cyclone Idai in March 2019.
Staff of the National Institute of Disaster Management (INGC) and other stakeholders..
Mozambique